Spirit of Mecklenburg Statue
In May 2010, The May 20th Society partnered with the Trail of History and celebrated the unveiling of the Spirit of Mecklenburg Statue of Captain James Jack at the corner of 4th Street and Kings Drive. A large central fountain between the new Pearl Street Bridge and Morehead Street is the centerpiece of the greenway with casual seating and an overlook to Little Sugar Creek and a lower creekside plaza.
Flanked by trees all around, the fountain, at an estimated 70 feet wide, is a major attraction. The Little Sugar Creek greenway emphasizes the connectivity needed to serve as alternative transportation to retail and uptown destinations. It also provids passive recreation and activity focal points to engage people throughout the day and into the evening hours.
Chas Fagan, who sculpted the statue is a self-taught artist who grew up in Brussells, Belgium, and graduated magna cum laude from Yale University with a degree in Russian and East European studies. He has painted portraits of Mrs. Barbara Bush, President Reagan, Speaker of the House Tom Foley, and a complete set of presidents for C-SPAN's 2001 program American Presidents. In 2008, Chas Fagan was selected the California legislature and governor for the creation of the statue to the Ronald Reagan Presidential Library Foundation.The bronze statue of President Ronald Wilson Reagan (1911-2004) was unveiled in the United States Capitol Rotunda on June 3, 2009. Chas Fagan was commissioned by The May 20th Society and Trail of History after an international search, leading a community-wide effort to produce a statue called The Spirit of Mecklenburg on the Greenway in Uptown Charlotte.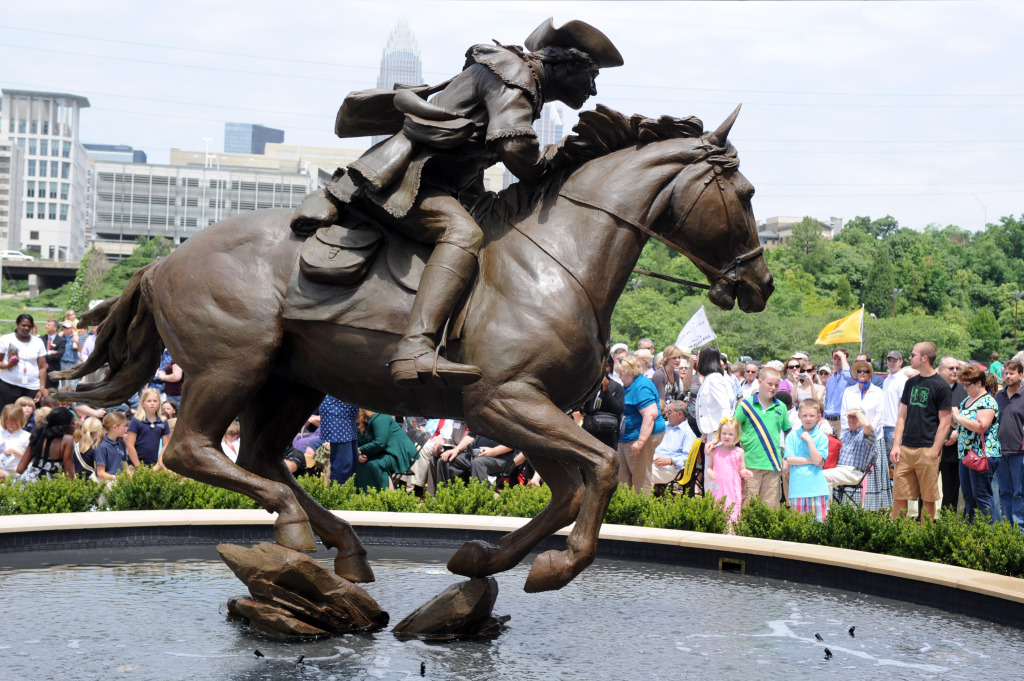 Since 2010, the Trail of History has added eight more bronze projects to the Little Sugar Creek Greenway with plan for a total of 22 bronze statues when complete. To learn more about the Trail of History and to support this endeavor, click here.